Neptune Series Low Frequency UPS Catalogue (8kVA-100kVA 3/1)
File size: 3.2MB

File size: 770.6KB
Neptune Series Low Frequency Online UPS
Capacity: 8kVA-100kVA | Power Factor: 0.8 | Phase: 3/1 | Input Voltage: 380VAC / Output Voltage: 220VAC | Frequency: 50Hz/60Hz
---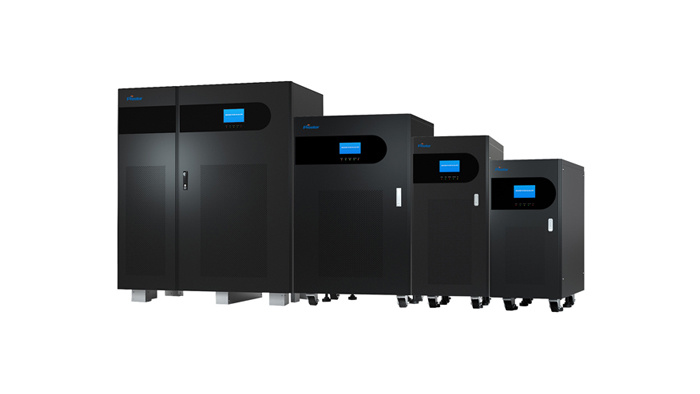 Features Introduction
● DSP full digital control technology, with faster computing and processing capabilities

● Dual conversion pure online technology, adaptable to harsh working environments

● User-friendly LCD display interface, 7-inch full-color touchscreen, multi-language display

● Standard output isolation transformer, strong anti-interference capability

● Low power consumption and high efficiency, achieving over 98% high operational efficiency in ECO mode

● Powerful redundant parallel function, reducing users' upfront procurement costs and subsequent capacity expansion costs

● Startup self-diagnostic function, timely avoiding potential failure risks caused by UPS hidden issues

● Rich communication interface, supporting remote monitoring and management of UPS
---
Performance Characteristics
DSP digital control technology
Core system uses the world's most advanced all-digital DSP control technology, which can effectively guarantee the UPS' core system accurate, and fast running.

Advanced IGBT inverter technology
Combined high-reliable and high-efficiency IGBT inverter technology with high-frequency Pulse Width Modulation technology (PWM).
It could reduce noise and power loss, to ensure users can load in a variety of working situations and obtain high-quality voltage output and maximum cost-effectiveness, but also make input efficiency more than 95%.

Pure-online double conversion technology
Reliable and stable, after filtered and regulated, the output sine wave from pure-online double conversion technology, not only has the atmospheric disturbance suppression filter, but also with the standard output isolation transformers, static bypass, maintenance bypass, make this product with higher ability to engage in short circuit current. And it can be applied to the worst working environment.

Perfect protection
Perfectly system protection functions: It has AC over-voltage, under-voltage, output over-voltage, under-voltage, output overload, short circuit protection, inverter, rectifier over-temperature protection, voltage under-voltage warning, battery over charging protection and other protections in one to ensure the system to operate stably and reliably.

Powerful Redundant Parallel Connection Function
Durable and reliable design of industrial-type modular structure, combined with full digital DSP control technology core system, make this product not only can be used for N +1 / N + X redundancy and the ability of enlarge the capacity, but also permit different power and different times of the UPS could be in parallel. It greatly reduced the user's pre-and post-purchasing costs, and increased capacity costs, but also expanded upper spaces of increasing capacity.

Powerful communication system
The standard equipped with RS232 interface, do contact relays, emergency switching device EPO input interface.
Low-power dissipation but high-efficiency
To achieve more than 98% of ultra-high efficiency under ECO economic model, which can effectively bring down the amount of electricity, and effective in accordance with the requirements of energy-saving target of the country.

Prediction warning system
LCD panel automatic detection function and timely warning in advance, with the boot self-diagnosis function. It could avoid the hidden danger in time due to UPS' failure, which caused risks. Also it could automatically alarm by setting the battery discharge to standby time is less than a set value.

Humanized panel display
Humanized panel settings, the users can set system parameters, date, output voltage, battery capacity, alarm function, light-load shutdown, system boot time, MODEM settings, such as orders, also it can be up to 120 abnormal failure information for users to query.

Super-strong environment adaptability
This product has superior environmental adaptability, wide AC input range, greatly reduces the frequency of battery using, and effectively extends the battery life.

Powerful Overload Ability
Using the pure-online double conversion technology, with the output isolation transformers, static bypass, and maintenance bypass.
Inverter Overload Ability reached 110% / 125% / 150% overloading time can last for 300min/10min/1min.
Bypass Overload Ability reached 150% / 170% / 250% overloading time can last for 60min/10min/1min.
---